The secret of Perfect Bust
Perfect Bust is a combination of natural ingredients, which, thanks to its strength will help you get the ideal size of your breasts. Multipath effect makes you building your femininity consistently and comprehensively. Thanks to the development of knowledge about the functioning of our body and the many years of research, the solution to many women complexes is at your fingertips.
Mechanism of action of Perfect Bust Serum:
Although genes are among the factors determining bust volume, there are also other aspects influencing its shape and volume (weight loss diet, exercises, pregnancy, breastfeeding).
The safest and most natural method of increasing bust volume is local application of active substances created for stimulation of natural generation of fatty tissue. Volume increases without risk, because fat generation does not influence teat glands.
Perfect Bust – recommended by the millions!
Trust the millions of women who have already proven effectiveness and recommend Perfect Bust.
The unique formula of Perfect Bust:
The secret of Perfect Bust supplement action lies in the unique composition, selected only from natural ingredients based on herbs. Ingredients introduced into the body can stimulate the enlargement of your breasts, because they contain the natural hormones - plant-derived phytoestrogens behave like the estrogen produced by a woman's body. Thus, in a natural way Perfect Bust stimulates your breasts to natural growth, as during the ripening process.
Power plant components used in preparation Prefect Bust strength has been known for centuries!
Voluplus™ Voluplus™  is a patented ingredient with the ability of enlarging bust volume, confirmed in laboratory. The active substance contained in Voluplus™ is macelignan - powerful, natural adipogenesis activator, effective even in low doses – obtained from nutmeg (Myristica fragrans Houtt.).
Adipogenesis is a process of creating new adipocytes, namely ripe fatty cells, which proceeds throughout the entire lifetime. Macelignan supports the process of lipid accumulation in fatty cells of the bust.
The incredible therapeutical potential of the compound is related to PPAR (Peroxisome Proliferator-Activated Receptor) activation, a receptor in the fatty tissue, which is a key regulator of fatty cells.
In vivo and in vitro studies confirm that without participation of these receptor it is impossible to have new fatty cells created. The natural activation with mecelignan results in volume increase of the fatty tissue of the bust, resulting in the SizeUp™ effect – bust size increases within a few months. Macelignan is dissolved in oil of macadamia nut, which provides improved penetration, protects from oxidation and simultaneously smoothens the skin. Macadamia oil is characterised by high concentration of monounsaturated fatty acids and high content of palmitooleic acid and its isomers. It contains minerals necessary for the process of adipogenesis (potassium, phosphorus, calcium) and vitamins (B1 and B2). Monounsaturated fatty acids smoothen, hydrate and provide anti-aging action. They are also an exceptional matrix for active substances, improving their penetration into the bust.
NACRE  is obtained from natural pearls, which, after selection and disinfection are ground and micronized to a delicate, fine power. Pearl powder is rich in a unique protein named conchiolin, which corresponds to human keratin and constitutes over 50% of the mass of pearls.
The pearl protein is built of over 20 different aminoacids, responsible for healing processes and correct metabolism and hydration of skin cells. Thanks to the contents of calcium, pearl powder in its crystalline form (aragonite - 31%), pearl powder also has matting effects, antiseptic effects, beneficial in case of skin with tendency for eczemas.
Proteins present in nacre show high affinity to the proteins of human skin, thanks to this affinity the micronized nacre has the ability to penetrate the epithelial layers, influencing firmness and elasticity of the skin, also showing regenerative and healing properties. It lightens discolorations and improves the hue of the skin without clogging the pores (it is uncomendogenic). It absorbs the excess of sebum, matting the skin, can be used with any complexion type. Reduces visibility of small wrinkles and skin pores.
POT MARIGOLD  The flowers of pot marigold contain a mixture of triterpene saponines, aleanic acid derivatives (e.g. caledulosides A and B) and triterpene alcohols (e.g. arnidiol, ferandiol and calenduladiol). Pot marigold and its processed products, applied externally, show anti-inflammatory, bactericide and fungicide properties. Large content of provitamin A conditions correct epithelium growth, counteracts excessive peeling of the epithelium, accelerate granulation and scarring of all skin damage, even in the initial stage of tumour skin changes.
They have not only medicinal importance, but also a cosmetic one, since they regulate and enhance resorptive properties of the skin and protect it from harmful influence of external factors. It is recommended for care of worn, dry and very sensitive skin, accelerates regeneration, shows anti-inflammatory and nourishing properties. It eliminates inflammatory states of the skin and provides relax.
FUCUS  Fucus (Fucus vesiculosus L.) belongs to the group of brown algae. Algae have been known and valued since antiquity. It has been proven that they have strong anticellulities, modelling and remineralizing properties. Fucus restores skin balance and improves its proper hydration.
It contains organic iodine, potassium, alginates, fatty acids, fucosterol, proteins, carbohydrates (fucoidan), alginic acid and unsaturated fatty acids. Improves skin looks.
LEMON  Lemon is a fruit of lemon tree (Citrus limon L.) also known as proper lemon. It originates from southeastern China, but currently does not exist there neither as a wild, nor as a cultivated plant. Thanks to presence of lemon bioflavonoids and D-limonene, it shows anti-oxidative and anti-wrinkle properties.
D-limonene – in a main ingredient of lemon essential oil, a compound belonging to the group of monoterpenes, which shows antioxidative, antitumour properties and diminishes activity of an enzyme - elastase, thus also preventing degradation of elastine, a protein which together with collagen is responsible for firmness and elasticity of the skin. D-limonene also increases bioavailability of coenzyme Q10.
Lemon bioflavonoids – are mainly: hesperidines, naringins and rutins. These compounds are strong free radical inhibitors, slow down action of enzymes triggering inflammatory processes in the skin, lower vessel permeability and support fight against discolourations. Lemon bioflavonoids have positive influence on the efficiency of vitamin C (ascorbic acid), by increasing its bioavailability and stability.
Packaging
Many years of experience in the cosmetics  and erotic industry have resulted in a unique product for women. Perfect Bust is not just a bust enlargement product line, but also increasing satisfaction with sexual life of women.
Thanks to experience and customers' opinions in February 2014 we changed the packaging of the product Perfect Bust. Taking great care of the highest possible conversions shops companies cooperating with us we relied on proven solutions. The project was completed in collaboration with a leading graphic studio in the country.
The product looks very well both on the shelf and photographs. We have made every effort to fully reflect the images offered products. Our extra each product has a unique bar code.
When creating an offer in your online shop, we also recommend the introduction of product sets throughout the series. Below are examples of graphical examples. The studies that we conducted with several of our retail partners have shown that sets increase your profit by generating a turnover of up to 40%!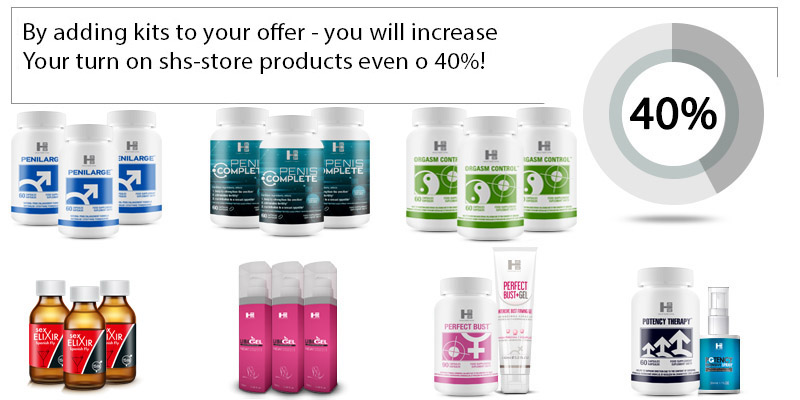 The complete list of sets, suggested retail prices, thumbnails, banners, visualizations, and other materials needed for their introduction can be found in the "Sets" tab.
Guarantee products 180 days!
As the only one in Europe we have introduced the possibility of return of purchased products within 180 days of receipt of the shipment. Products can be returned without giving a reason.