Potency therapy !
Potency therapy is a novelty on the Europe market, but it has already gained many customers due to its effectiveness. Our product is recommended by customers from all over the world. It was tested by millions of men, with outstanding results. Potency therapy is the best product for erection ever made.
Packaging:
Many years of experience in the supplements and erotic industry have resulted in a unique product for men. Potency therapy is not only the most powerful aphrodisiac in the market but also high-quality packaging. Thanks to experience and customers' opinions in February 2014 we changed the packaging of the product Potency therapy. Taking great care of the highest possible conversions shops companies cooperating with us we relied on proven solutions. The project was completed in collaboration with a leading graphic studio in the country. The product looks very well both on the shelf and photographs. We have made every effort to fully reflect the images offered products. Our extra each product has a unique bar code.
Safety:
Potency therapy product was created for men who have problems with erection. However, with this type of supplements, men are often afraid of unwanted symptoms. Potency therapy is a product with all-natural composition, so it's safe and most importantly effective dietary supplement for erection problems. The safety of this product is also confirmed by the Chief Sanitary Inspectorate, in which Potency therapy is registered.
Ingredients:
L-Arginina
Tribulus terrestris
Niacin
Beta vulgaris L
Ginkgo biloba
Crocus sativus
Panax ginseng   
Application:
Use 1-2 tablets for about an hour before sexual activity. Do not exceed the recommended dose to be consumed in one day. Food supplements should not be used as a substitute for a varied diet. One or two tablets Potency therapy for about first meal.
When creating an offer in your online shop, we also recommend the introduction of product sets throughout the series. Below are examples of graphical examples. The studies that we conducted with several of our retail partners have shown that sets increase your profit by generating a turnover of up to 40%!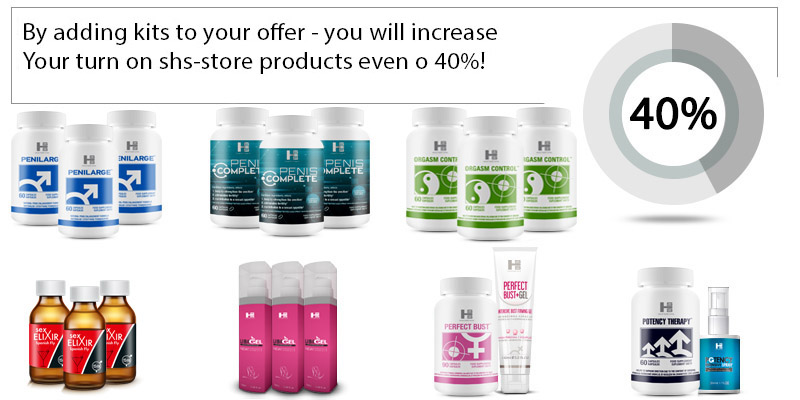 The complete list of sets, suggested retail prices, thumbnails, banners, visualizations, and other materials needed for their introduction can be found in the "Sets" tab.
Guarantee products 180 days!
As the only one in Europe we have introduced the possibility of return of purchased products within 180 days of receipt of the shipment. Products can be returned without giving a reason.