Female Intensity ™ is a well-known dietary supplement for increasing libido for women on the Polish market, although it is on the market for a short time, it is has gained immense popularity thanks to its effectiveness. Our product is recommended by customers from all over the world. It has been tested by millions of women with amazing results. Female Intensity ™ is the only one that is so effective and gives immediate dietary supplement effects.
Awards and distinctions:
CONSUMER'S LAUREL
We would like to inform you that all Sexual Health Series products have been distinguished not only by a wide group of specialists dealing with the subject of intimate dietary supplements, but above all they have been appreciated and awarded Consumer Laurel receiving the title of 'Discovery of the Year' > which confirms the satisfaction of customers with the use of Sexual Health Series products, including the product Female Intensity ™ .
HACCP and ISO 22000
Female Intensity ™ is a product of the highest quality. Herbal ingredients are obtained from organically grown herbs. Proper cultivation, harvesting and processing, compliant with the requirements of ISO 22000, HACCP standards gives you confidence that this product The highest quality. Female Intensity ™ is safe , its ingredients are of natural origin. Let your clients feel what it is like to have a high level of libido with the new formula Female Intensity ™.
Packaging:
Many years of experience in the industry with supplements and erotic have resulted in the creation of a unique product for men. Female Intensity ™ is not only a product that increases libido, but also increases the satisfaction with women's sexual life.
Bearing in mind the highest conversion rate of the companies cooperating with us, we relied on proven solutions. The project was made in cooperation with a leading graphic studio in the country. < / strong> The product looks exceptionally well both on the store shelf and in the photos. We have made every effort to ensure that the photos fully reflect the products offered.
Female Intensity ™ is the most popular and the only product on the Polish market of dietary supplements to increase female libido. Many years of work of the marketing team made it extremely popular among customers of e-commerce stores.
Female Intensity Product Sets ™ :
When creating an offer in your online store, we also recommend entering sets of products from the entire series. Below we present graphically sample sets. Research that we have conducted with several of our partners having retail stores have shown that sets increase your profit generating turnover up to 40% higher!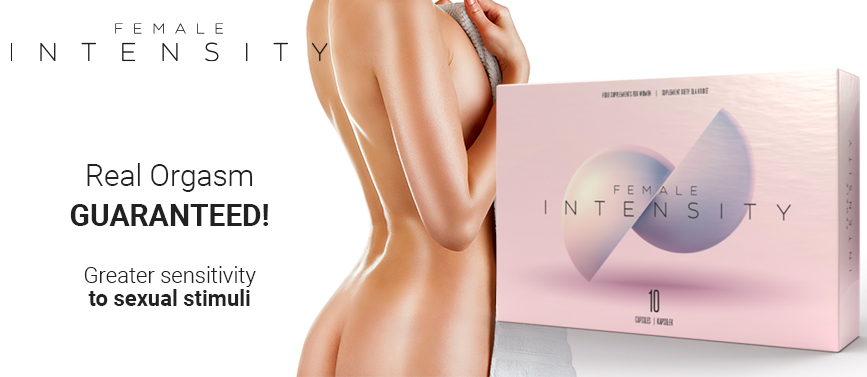 Unique Female Intensity ™ formula:
Thanks to innovative solutions Female Intensity ™ was created on the basis of known ingredients but in innovative form and unprecedented proportions, which ensures you increase libido and improves the quality of sexual life. To find out the detailed effects of the ingredients Female Intensity expand their description:
Fenugreek seed extract (Trigonella foenum-graecum L.)

also known as Greek clover, Greek hay or God's grass, is a plant whose properties have been used in Asian medicine for centuries. Fenugreek is also an excellent aphrodisiac. Fenugreek, rich in steroid saponins, can be successfully supplemented by women. Fenugreek appears to contain compounds that the body can use to produce sex hormones such as estrogen. It will add spice in the bedroom due to the fact that it improves the blood supply to the pelvic organs, thus increasing sexual sensations.

Maca root extract (Lepidium meyenii)

a plant that has been used in Peruvian medicine for a long time; is classified as an aphrodisiac that causes increased sex drive or improves potency. Maca increases blood supply to the genitals, which improves sexual performance, increases libido and stimulates sensations. In natural medicine, it is used to treat sexual frigidity. Maca perfectly regulates disorders in the endocrine system in women, and the conducted studies have shown that maca stimulates estrogen production, suppresses FSH and reduces the severity of menopausal symptoms.

L-Arginine

is the amino acid responsible for physical fitness. It helps in the production of energy in the muscles, and also plays an important role in the transport, storage and excretion of nitrogen, and thus ensures efficient muscle metabolism. Additionally, L-Arginine supports circulation. As a nitric oxide precursor, arginine can facilitate orgasm and increase sensitivity to sexual stimuli. Note: it should be remembered that Arginine may affect changes in potassium levels, increases stomach acidity and increases blood glucose levels. Therefore, remember not to exceed the daily dose of the preparation.

Citrulline

organic chemical compound from the group of α-amino acids, ornithine derivative. It was first isolated from watermelon. It is most often used to improve sports performance. Additionally, it is helpful in fighting dementia, muscle weakness and fatigue. However, citrulline is increasingly used to improve sex life by both women and men.

Mucuna pruriens

velvety grain - a species of plant from the Fabaceae family. It is native to East Asia, the Moluccas and the Philippines. It has now spread throughout the tropics and is found both wild and cultivated. The plant is rich in a substance that acts as a neurotransmitter (l-dopa), which is a dopamine precursor. Mucuna supports vitality, improves mood by increasing female sexual abilities.

Korean ginseng root extract (Panax ginseng)

also known as ginseng or omelette - a species of relict perennial from the Araliaceae family, it used to be wild in the north of the Korean Peninsula, Northeast China, Japan and eastern Russia (Primorsky Krai and Ussuri River catchment). However, due to intensive harvesting, its natural range has shrunk to just three habitats in Russia and China. Ginseng increases libido in both men and women. This may be the only natural aphrodisiac besides saffron that has such an effect on female libido.
Content in 1 capsule:
Fenugreek seed extract (Trigonella foenum-graecum L.) - 200mg, Maca root extract (Lepidium meyenii) - 100mg, L-Arginine HCl - 50mg, Citrulline - 50mg, Mucuna pruriens - 45mg, Korean ginseng root extract (Panax ginseng) - 45mg.
Female Intensity™ action:

Thanks to the perfect selection of well-known and proven ingredients. Female Intensity is the only dietary supplement that offers such effectiveness on libido . Its almost immediate effect means that you do not have to take it all the time, just take the recommended dose once every two days. The action of Female Intensity is activated after just 1 capsule. After approx. With 5 capsules you will achieve the maximum level of your libido - now sex will be a real pleasure!
Product Return Guarantee 180 days
All products of the Eromed.pl warehouse are covered by a satisfaction guarantee. As our customer you can return the purchased products within 180 days without giving any reason and we will refund your money immediately.